Are you tired of the styling of your fur? Are the padded shoulders too big? Is your coat too long? Does it still fit properly?
Would you wear it more if it was a vest? Do you wish it could be reversible?
Why not consider having it remodeled by Dino's International Furs?
Remodeling Reversible Garments
Reversible garments are one of the latest trends in fur and we can the trend further with professional remodels. Allow us to reveal a whole new style for your reversible garment.
Multiple Options
We can offer you a variety of remodeling and restyling options. Popular options include shortening your coat or downsizing the shoulders to a more contemporary look.
A Totally New Look
Many customers are choosing to totally remodel their garments to discover gorgeous new looks and bring new life to their furs.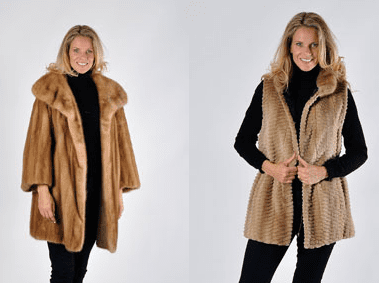 Andover Location
In the Bridal Building 
Business Hours
Closed for the month of July, August, & September
South Portland Location
At Cornerbrook
Business Hours
Monday - Friday 10am - 4pm 
North Hampton location 
At Victory Park Plaza
North Hampton, New Hampshire
Business Hours
Tuesday - Thursday 10am - 4pm