Repurpose Your Fur into Keepsakes
Have you acquired a fur from a favorite relative and don't know what to do with it? Have you considered making it into a keepsake?
Bring it into Dino International Furs and let us work our magic.
Keepsake Animals
We offer a large selection of adorable keepsake animals including:
Teddy Bears
Sitting Kitties
Long eared Honey Bunnies
Lions
Poodles
Sheep
Standing Bears
All of the keepsake animals are hand crafted and include glass eyes. Most animals also have moveable joints.
Our keepsake animal maker can also preserve the original monogram from the garment. Depending on the size and style, the monogram can be added to the foot pads or be made into a little hanging bag for the animal.
Another way to preserve a treasured fur is to make it into a usable item for your home such as a decorative fur pillow or a warm throw.
You can choose a color coordinated suede cloth or wide wale corduroy as a backing for the pillow or throw.
Decorative braiding and other trims can also be added.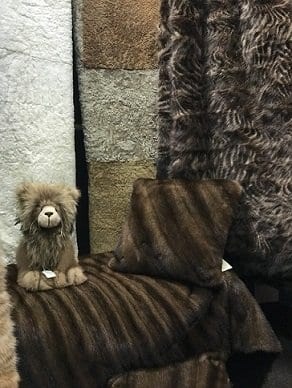 We also have a varied selection of these adorable animals and beautiful throws in the store for sale. Each keepsake animal is handcrafted and takes up to 7 hours to create. They make wonderful and unique gifts.
*These keepsakes are not intended as toys. Given the glass eyes, they should not be handled by young children.
For more information about our keepsakes, call us at 207-772-1344.
Andover Location
In the Bridal Building 
Business Hours
Closed for the month of July, August, & September
South Portland Location
At Cornerbrook
Business Hours
Monday - Friday 10am - 4pm 
North Hampton location 
At Victory Park Plaza
North Hampton, New Hampshire
Business Hours
Tuesday - Thursday 10am - 4pm